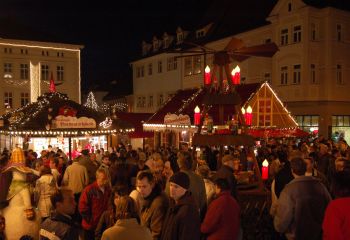 This Christmas market on Eisleben's historical market square is illuminated by a sea of Christmas lights. It takes place around the statue of Martin Luther, who was born and died nearby. Laden with yummy treats and a range of festive wares, the lovingly decorated Christmas market stalls prove irresistible to visitors. As you stroll around soaking up the atmosphere, the three-storey Christmas pyramid and the seasonal sounds from the Christmas stage will fill you with the joys of the season. Fairytale characters and Father Christmas with his helper hand out sweets and treats to delighted children at the weekends. Advent in Luther's courtyards promises to be an extra-special experience on 11 and 12 December.
Opening times
12/04/2021 - 12/19/2010
Mon - Fri 10:00 - 18:00
Sat - Sun 12:00 - 19:00
The shops are also open on Sundays.