20 Years since the Fall of the Wall - a journey which unites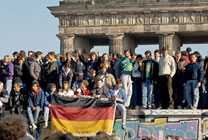 After more than 28 years of German division, the Berlin Wall fell overnight from November 9 through 10, 1989, marking a historical event of global significance. Today, 20 years later, Germany, Europe and the whole world look back, in order to look forward. Thanks to the peaceful revolution and the Fall of the Wall, millions of people were united to form one country of Germany. The balance between East and West was re-established.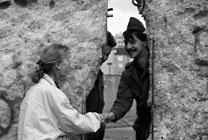 Experience history where it unfolded and discover a piece of virgin soil in Germany, which the Fall of the Wall elevated to a symbol of fresh starts, hope and a new future. You, too, can become a border-crosser and visit historical locations:
St. Nicholas' Church
in Leipzig, the numerous GDR museums in Thuringia or the Wall Trail and the legendary
Checkpoint Charlie
in Berlin, the capital which presents itself in a whole new light since reunification. As a tourist destination Germany has become a country without borders, attracting visitors from all over the world. A country which is unique in the way it connects the past, present and future; a country which also cordially invites you to visit the relics of that time and relive history.
top