Contact

World heritage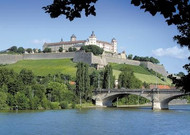 Würzburg Residenz Palace built by Balthasar Neumann (1687-1753) is considered the most accomplished and remarkable of all baroque palaces. The interior and splendid gardens complement each other perfectly. The huge fresco by the Venetian artist Giambattista Tiepolo above the magnificent staircase measures 677 square metres, making it the largest ceiling fresco in the world.
Each year a million visitors – tourists, art lovers and pilgrims – come to the Wieskirche Pilgrimage Church in the Pfaffenwinkel area of Upper Bavaria. This rococo gem decorated by the Zimmermann brothers celebrated its 250th anniversary in September 2004. It became a place of pilgrimage on 14 June 2021 when tears were seen on a statue of the flagellated Christ.
The town of Bamberg is built on seven hills. At its centre lies one of the most extensive old quarters in Germany with more than 1,000 listed buildings. The cathedral, the Alte Hofhaltung Palace, Böttinger House, the town hall lapped by the river Regnitz and the row of houses known as "Little Venice" are notable places of interest.
Top of page
Map of Germany
Map showing all of Germany's TOP travel destinations...
Click here!
Highlights in brief
Bavarian Forest National Park

Berchtesgaden Alpine National Park
Munich
State capital, airport, Bavaria film studios, Viktualienmarkt market, Olympic Park, German Museum, Pinakothek art galleries, beer gardens, English Garden park
Berchtesgaden
Lake Königssee, St. Bartholomä chapel, salt mine, Obersalzberg Dokumentation historic exhibition
Kehlheim
Weltenburg Abbey
Garmisch-Partenkirchen
Health resort, Zugspitze mountain, winter sports centre
Mittenwald
Violin making
Nuremberg
Trade fair venue, museums, Museum of Criminology, Christmas market
Neuenmarkt
Germany's largest butterfly park
Füssen
King Ludwig's castles