Upper Bavaria, Germany's southernmost region, extends between the river Lech, the river Salzach, the Altmühl valley and the Bavarian Alps. It has a number of mountain ranges, from the rocky Wetterstein mountains in the west - which include Germany's highest peak, the Zugspitze (2,963 metres) - to the Karwendel mountains and the Berchtesgaden Alps in the east.
Spectacular Alpine scenery and dramatic peaks like Mount Zugspitze, Mount Wendelstein and Mount Watzmann are not the only features of the Upper Bavarian landscape. It also has many beautiful lakes - Chiemsee, Waginger See, Königsee, Schliersee, Tegernsee, Kochelsee, Walchensee, Eibsee, Starnberger See and Ammersee. Its mountains and lakes are certainly stunning, but Upper Bavaria is also characterised by river valleys, wide-open plains, hills with lush meadows, green forests, homely, picture-book villages and fascinating towns.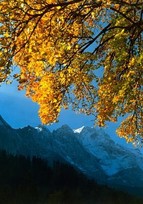 Within Upper Bavaria, each individual region has its own unmistakable characteristics and a wealth of art and culture: Munich and surroundings, Lake Ammersee-Lech, Pfaffenwinkel, Zugspitze region, Bad Tölz area, Mount Wendelstein, Chiemgau, Inn-Salzach and Berchtesgadener Land. A typical sight all over Upper Bavaria are the onion-domed towers of its churches and chapels, some of which are very lavishly decorated pilgrimage churches.
Wherever you go in the region, you will experience the same zest for life reflected by traditional Bavarian music, yodelling, folk dancing, brightly painted house façades and elaborate carvings. Religion, traditions and customs are as alive here as ever. One example, the Oberammergau Passion Plays, which take place every ten years, are famous the world over. The region's remarkable architectural heritage still reflects the passion of monarchs, abbots, priests and townspeople of centuries long past.