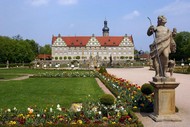 This evergreen upland area in northern Bavaria is made up of 15 regions, spread across around 30,000 square kilometres. Many visitors consider it to be a miniature replica of the country as a whole. Over half of this area is given over to nature reserves – there are nine in all. But nature is not the only area in which Franconia is spoilt for choice. The area also has towns and cities with the weight of history behind them. Nuremberg, Bayreuth, Würzburg, Bamberg, Kulmbach, Ansbach, Aschaffenburg and Eichstätt, not forgetting Dinkelsbühl and Rothenburg ob der Tauber: all are architectural jewels in Franconia's crown. Their Christmas markets attract thousands of visitors every year.
The Fichtelgebirge is an ancient mountain range in the north-east of Franconia. This region forms the watershed between the North and Black Seas. In its mysterious climate, legends abound of spirits in the moors and woods, hidden treasure and hoards of gold. In fact, this area was an important gold, silver and tin mining centre.
It's best to take some time to explore the Frankenalb region east of Nuremberg, with its soft hills, many of which are crowned with castles. This is an area for walking and cycling, for enjoying delightful fruit blossom in spring and magnificent colours in autumn. Water fans can spend the summer splashing in rivers and lakes. The Franconian forest in the north, between the Thuringian Forest, the Fichtelgebirge mountains and the Erzgebirge mountains, forms Bavaria's "green crown". In this hiking area lie many secluded castles and ruins to be discovered, as well as old armouries, mills and remote forest inns, so it's also a treasure trove for history enthusiasts.
Franconian Switzerland is a region rich in history. But the Upper Main valley and Coburger Land, the Spessart hills, Main and Odenwald, the Steigerwald forest, the Rhön hills, romantic Franconia and the area around the city of Nuremberg all tempt the visitor with their riches. Many of the museums house exquisite artworks. The area's importance as an intersection of major trading routes is emphasised by the presence of countless castles and stately homes, churches, ruins and palaces.