The Berchtesgadener Land is beautifully situated in the southeastern corner of Bavaria, with the alpine foothills and the idyllic Abtsdorfer See to the north and imposing mountain peaks to the south. The region encompasses such familiar names as Berchtesgaden, Schönau am Königssee and Bad Reichenhall as well as practically undiscovered villages and towns such as Anger, Marktschellenberg and Laufen.
The area to the south of Berchtesgaden contains Germany's only national park to feature actual mountains and the northernmost glacier in the Alps. Rare plants, marmots, chamois and ibex all shelter here. The region's famous landmark is the Watzmann, at 2,713m the second-highest peak in Germany. This mountain is swathed in myth and legend.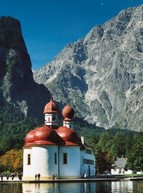 The jewel in the national park's crown is the famous Lake Königssee. Its crystal-clear water is good enough to drink and looks like a Norwegian Fjord, surrounded as it is by steep mountains. The St. Bartholomew peninsula is home to the church of the same name, a place of pilgrimage and a must for any photographer.
In Berchtesgaden, a working historical salt mine demonstrates the thrill of salt water extraction. The Alte Saline salt works and museum in Bad Reichenhall tell of how salt was extracted from this salt water. The well-insulated underground world is animated in an unusual way, with an evening of music from singing bowls in the Salzheilstollen Berchtesgaden salt mineshaft, an event unique in western Europe.