Contact

Regional specialities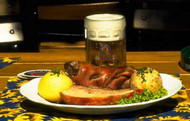 Bavarian beer is popular with visitors from around the globe. There are more breweries in Bavaria than anywhere else in the world and the oldest evidence of brewing in Germany is to be found here. Duke William IV enacted the famous German Beer Purity Law in 1516 according to which no ingredients other than water, hops and barley can be used to make Bavarian beer.
Kässpätzle originate in the Allgäu region. They are made from a glutinous dough which is scraped off a board into boiling water then put into a bowl and covered with cream and Allgäu cheese and served with melted onions.
Leberkäse, a classic Bavarian dish, is a baked meatloaf made with finely minced pork and beef. It is served with potato salad and fried eggs as a main course or eaten cold garnished with pickled gherkins as a snack.
Bavarian sausage specialities include the Weisswurst (white sausage) from Munich and Nuremberg Rostbratwurst (grilled sausages). Weisswurst is made of veal and pork with onions and parsley and is normally accompanied by sweet mustard, large pretzels and Bavarian beer. Nuremberg grilled sausages are often served from street stands with a fresh bread roll or eaten as a main meal with sauerkraut, sharp mustard and farmhouse bread.
Top of page
Map of Germany
Map showing all of Germany's TOP travel destinations...
Click here!
Highlights in brief
Bavarian Forest National Park

Berchtesgaden Alpine National Park
Munich
State capital, airport, Bavaria film studios, Viktualienmarkt market, Olympic Park, German Museum, Pinakothek art galleries, beer gardens, English Garden park
Berchtesgaden
Lake Königssee, St. Bartholomä chapel, salt mine, Obersalzberg Dokumentation historic exhibition
Kehlheim
Weltenburg Abbey
Garmisch-Partenkirchen
Health resort, Zugspitze mountain, winter sports centre
Mittenwald
Violin making
Nuremberg
Trade fair venue, museums, Museum of Criminology, Christmas market
Neuenmarkt
Germany's largest butterfly park
Füssen
King Ludwig's castles