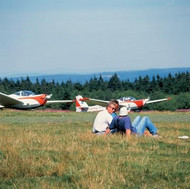 The Rhön is a region reunited. For more than 40 years the border between the two Germanies ran straight through this landscape of bare-topped hills. Watchtowers, trip wires, minefields and galvanised screen fencing used to divide the western Rhön from the Vorderrhön, a part of Thuringia. Surrounded by the Vogelsberg hills, the Spessart hills, the Thuringian Forest and the area known as the Grabfeldgau, the Rhön is one of the most dramatic volcanic landscapes in central Europe, formed between 230 and 65 million years ago. Way back in history, lava from the depths of the earth forced its way up through the Rhön, flowing out over the land or getting trapped in volcanic funnels. When it cooled it formed hard peaks of basalt and other volcanic rocks. Today the Rhön has all the hallmarks of a volcanic landscape.
The north-western part of the Rhön - between Hünfeld and Gersfeld - lies in the state of Hessen and is part of the Hessian Rhön nature reserve. The southern part - between Fladungen and Hammelburg - is in the Free State of Bavaria and is part of the Bavarian Rhön nature reserve. The north-eastern part of the Rhön - between Bad Salzungen, Frankenheim and Meiningen - is in Thuringia.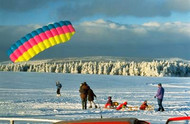 The Werra valley forms a natural border between the Rhön hills and the Thuringian Forest. Highlights here include Eiben Forest near Dermbach, the fairytale sandstone cave at Walldorf and the deepest lake in Germany formed by land subsidence, which is near Bernshausen. Mount Wasserkuppe (950 metres) is the Rhön's highest elevation, but it is also part of an enormous massif with several other towering peaks. It is very popular with air sports fans - gliders, hang-gliders and paragliders - who use it to take to the air.
But the Rhön is not only about how high you can go. You can also go spinning round. The gym wheel (Rhönrad) was invented in 1925 by Otto Feick in Schönau an der Brend. Wheel gymnastics was even an Olympic sport for a while, and national and international competitions still take place today. The Rhön's remarkable landscape - bare-topped hills, delightful valleys, heathland and fascinating flora and fauna - allows the gaze to roam and gives wings to the imagination. In the winter it is a wonderful region for skiing.