Contact

Nature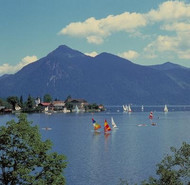 Lake Chiemsee, Bavaria's "sea", covers 80 square kilometres and is the largest lake in Bavaria. Set against the Chiemgau Alps it is excellent for sailing and windsurfing as well as a popular swimming spot. On its islands are one of "mad" King Ludwig's fairytale castles and a 1,200 year old Benedictine abbey.
The Bavarian Forest is the oldest national park in Germany. Nature has been allowed a free rein in this unspoilt highland region, 95 per cent of which is covered by forest. Visitors are warmly welcomed to experience the fascinating process of an ever-evolving forest wilderness at close hand. A network of clearly marked footpaths, cycle routes and cross-country ski trails offers visitors plenty of opportunity to enjoy the beauties of the national park in summer and winter.
The Berchtesgaden National Park in south-eastern Germany is one of the oldest nature reserves in the Alps. It offers visitors the opportunity to experience an enchanting part of the Berchtesgaden Alps where nature has developed freely, mostly without human influence. Walking in this stunning high mountain country is an unforgettable experience, and a visit to the renowned Lake Königssee is not to be missed.
Top of page
Map of Germany
Map showing all of Germany's TOP travel destinations...
Click here!
Highlights in brief
Bavarian Forest National Park

Berchtesgaden Alpine National Park
Munich
State capital, airport, Bavaria film studios, Viktualienmarkt market, Olympic Park, German Museum, Pinakothek art galleries, beer gardens, English Garden park
Berchtesgaden
Lake Königssee, St. Bartholomä chapel, salt mine, Obersalzberg Dokumentation historic exhibition
Kehlheim
Weltenburg Abbey
Garmisch-Partenkirchen
Health resort, Zugspitze mountain, winter sports centre
Mittenwald
Violin making
Nuremberg
Trade fair venue, museums, Museum of Criminology, Christmas market
Neuenmarkt
Germany's largest butterfly park
Füssen
King Ludwig's castles