This is the Allgäu and Bavarian Swabia holiday region, one of Germany's finest. What is really fascinating about the Allgäu is its variety. The landscape offers everything from lovely alpine meadows to soft hills to steep slopes and summits, deep green forests, romantic valleys and crystal-clear lakes.
Between the river Iller in the west and the Lech in the east, the Allgäu Alps in the south and the Ries basin – a giant depression left by a meteorite strike fifteen million years ago – further north, this area certainly has a unique landscape. Tourism dates back over a hundred years here and the possibilities for a successful, relaxing stay are almost endless.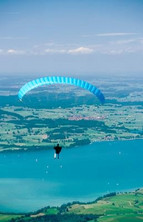 A network of well-marked walks and trails takes you to castles, churches and convents and offers a choice to suit the widest variety of tastes. Hill walkers will love trekking from hut to hut along well-constructed ridge trails, especially in late summer. Mountain railways and chairlifts can relieve you of much uphill exertion.
Water sports fans will also find lots to do. The area's many lakes have room for everyone, whatever their favourite activity on, in or by the water, be it sailing, water-skiing or windsurfing. Lessons are available for beginners. Back on dry land, golf, horse riding and tennis, bowling and mini golf are available all year round. Keen cyclists can test their fitness with selected tours of varying levels of difficulty.