Contact

Spas and health resorts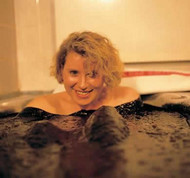 51 spa and health resorts offer their services in Bavaria. Most of them have evolved from purely medicinal facilities into real havens of health and wellness.
Bad Kissingen – Treatments: natural peat and medicinal spas, Shiatsu massages, magnetic-field energising massages, Ayurvedic head massages, Nordic walking, Roman-Irish steam bath.
Garmisch-Partenkirchen – Cultural activities: Richard Strauss Festival, rustic theatre, guest performances. Attractions: 34 cable cars and ski lifts, 115 km of pistes, tennis courts and golf courses; Olympic ice stadium (also open in summer), casino. Treatments: exercise therapy in beneficial climate, Nordic walking.
Bad Reichenhall – Cultural activities: operas, operettas, musicals, concerts, open-air events. Attractions: Predigtstuhl cable car, "Alte Saline" saltworks and salt museum, 150 km of walking trails, Nordic walking tuition. Treatments: saltwater and mud baths and skin treatments, massages, chirogymnastics, physiotherapy, exercise pools, saline baths with light therapy, Kneipp hydrotherapy.
Top of page
Map of Germany
Map showing all of Germany's TOP travel destinations...
Click here!
Highlights in brief
Bavarian Forest National Park

Berchtesgaden Alpine National Park
Munich
State capital, airport, Bavaria film studios, Viktualienmarkt market, Olympic Park, German Museum, Pinakothek art galleries, beer gardens, English Garden park
Berchtesgaden
Lake Königssee, St. Bartholomä chapel, salt mine, Obersalzberg Dokumentation historic exhibition
Kehlheim
Weltenburg Abbey
Garmisch-Partenkirchen
Health resort, Zugspitze mountain, winter sports centre
Mittenwald
Violin making
Nuremberg
Trade fair venue, museums, Museum of Criminology, Christmas market
Neuenmarkt
Germany's largest butterfly park
Füssen
King Ludwig's castles