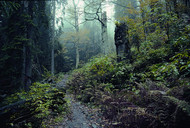 In the wooded landscape that stretches from the Danube to the Bohemian Forest and the Austrian border, the Bavarian Forest national park enjoys special protection. Nature takes priority in this, Germany's first national park, founded in 1970. The Bavarian Forest upland area rises to the north of the Danube between Regensburg and Passau and follows the wide curve of the river from north-west to south-east. The lower forest between the rivers Danube and Regen, and along the river Ilz, only exceeds the 1,000-metre mark in a few places.
The upper forest, situated between the Austrian border and the Cham-Furthe valley, rises further, with several 1,400-metre peaks, the highest of which is the Grosse Arber at 1,456m. Settlement of this area began in the High Middle Ages. People in the forest lived primarily from agriculture and forestry, mining and traditional glassmaking. Glass beads, window panes and drinking glasses from the region were highly prized at princes' courts across Europe.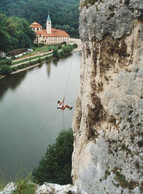 These days, a wide range of products leave the production lines at the glass works. Yet the traditional art of glassmaking is still very much alive. The Bavarian Forest is the largest continuous wooded area in Germany and was the country's first national park. Anyone who comes to the Bavarian Forest National Park to experience nature in the raw will see that this really is a prince among forests, with its crags and moorland, mountain streams, lynx, wolves and bears. To observe and experience the forest in its original state, growing and living as nature intended, is a unique opportunity.
If anyone thinks they will be left not knowing the wood from the trees, fear not! Even art lovers won't be lost for something to do. This is a region with many hidden treasures, where a variety of museums help the visitor to understand the land and its people.