Lake Constance, called Bodensee in German, was named after Bodman, an 8th-century Carolingian palatinate, and is a 538 square kilometre basin between the Alps and the Jura mountains. Three countries share the lake: Germany, Austria and Switzerland. A total of 236 rivers and streams feed into the lake. The Rhine is the main source of water, with its delta moving ever further into the lake at the eastern end of the basin.
The mild climate here promotes the growth of lush, southern European vegetation and makes the region well suited to fruit and vine cultivation. The shores of Lake Constance are densely populated. In fact, the lake is surrounded by picturesque, historic towns and villages where visitors can still see many buildings from the Middle Ages. Most of these are linked by boat. In summer, Lake Constance sparkles against the backdrop of the Alps, radiating a mediterranean atmosphere with its many boats and their white and coloured sails.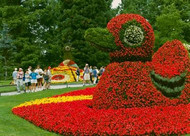 For a true taste of the tropics, pay a visit to Mainau, the island of flowers. Alongside fascinating vegetation, the island is home to Germany's largest butterfly house with viewing windows. A family-friendly beer garden by the lake stands next to a children's village with cave-like dwellings, a wooden train and water play areas. On the lake's northern shore, the Unteruhldingen museum and prehistoric village (built on 'stilts' over the lake) adjoins a nature conservation area. Twenty pile-built houses take the visitor on a journey back to the Bronze Age (4000 to 850 B.C.). These life-size houses are the fruit of archaeological research which is still being conducted.
The largest island in Lake Constance is the monastic island of Reichenau. It bears extraordinary testament to the religious and cultural role played by the Benedictine abbey in medieval society. The abbey was the cradle of western civilisation and played a key role, renowned as it was for its teaching of book calligraphy and painting and its goldsmiths, in influencing European culture.