Contact

Regions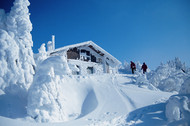 Bavaria's regions contain countless highlights and endless beauty. Monarchs, abbots, priests, townspeople and renowned architects from bygone centuries have left a legacy of amazing architectural monuments and picturesque villages, all complemented by stunning natural scenery.
Franconia is made up of a mosaic of different landscapes. There are vast forests with rivers and lakes, hills and open fields, sunlit terraced vineyards and extensive walking country to be found between the Rhön hills and the Altmühl Valley, and between the Spessart hills, the Main river, the Odenwald forest and the Fichtelgebirge mountains. Delightful scenery and charming towns and villages are waiting to be explored. Nature lovers have the choice of travelling by bike, on foot or in a canoe.
The Allgäu/Bavarian Swabia region is adjacent to Upper Bavaria and Franconia and borders Baden-Württemberg to the west. The region around Augsburg, Danube and Ries that stretches as far as the Allgäu is characterised by the gently rolling foothills of the Alps, with crystal clear lakes, lush riverbank meadows and but also by high mountains. It's easy to see why King Ludwig II chose this setting in which to realise his dream of a different world with his fairytale Neuschwanstein Castle. Ideal for hiking and water sports in summer and skiing in winter. The highest peaks to the south are mount Watzmann near Berchtesgaden and the Zugspitze near Garmisch.
Upper Bavaria extends from the river Salzach in the east to the Lech in the west, to the north it stretches beyond Ingolstadt and the Danube up to the Altmühl Valley and the Jura hills. It is a region of impressive mountain scenery, charming Alpine foothills, moraine hills and broad plains, distinctive rivers and around 200 lakes. Plus towns and villages bursting with art and culture, with Munich as the leading cultural centre.
Eastern Bavaria includes the towns of Regensburg, Passau and Straubing as well as Lower Bavaria between the Danube and Inn rivers. This region is home to limestone outcrops, dripstone caves, tranquil river valleys, colourful mixed forests and an abundance of lakes, but is best known for the Bavarian Forest, the "green roof of Europe". The Upper Palatinate forest, Bavarian Jura and southern Lower Bavaria are other areas of unspoilt natural countryside ideal for walking, cycling and horse riding. Both modern urban life and historical architectural monuments such as St Peter's cathedral in Regensburg or the world's highest brick-built tower in Landshut can be discovered along the "cultural axis" of the Danube.
Top of page
Map of Germany
Map showing all of Germany's TOP travel destinations...
Click here!
Highlights in brief
Bavarian Forest National Park

Berchtesgaden Alpine National Park
Munich
State capital, airport, Bavaria film studios, Viktualienmarkt market, Olympic Park, German Museum, Pinakothek art galleries, beer gardens, English Garden park
Berchtesgaden
Lake Königssee, St. Bartholomä chapel, salt mine, Obersalzberg Dokumentation historic exhibition
Kehlheim
Weltenburg Abbey
Garmisch-Partenkirchen
Health resort, Zugspitze mountain, winter sports centre
Mittenwald
Violin making
Nuremberg
Trade fair venue, museums, Museum of Criminology, Christmas market
Neuenmarkt
Germany's largest butterfly park
Füssen
King Ludwig's castles