Contact

Cities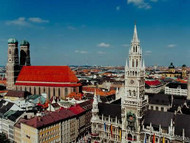 Bavaria's towns boast spacious pedestrian zones, shopping streets and cutting-edge economic, cultural and social life. Every town has a historical centre and has retained its individual charm through its own history.
Munich, the regional capital of Bavaria attracts visitors from all over the world and is renowned for its special blend of cosmopolitan flair and rustic charm, Alpine feel and Mediterranean splendour, art treasures and Oktoberfest, old customs and cutting edge technology, beer gardens and haute cuisine, opera and clubs. Its attractions include the Church of Our Lady, Munich's famous landmark, Marienplatz square with its carillon, the Pinakothek modern art gallery, the Residenz Palace and Nymphenburg Palace.
Augsburg is the third largest city in Bavaria. One of the oldest urban centres in Germany it was founded in the year 15 B.C. by the Roman emperor Augustus. Augsburg achieved its greatest prosperity in the 15th and 16th centuries through international trade and the banking business of the Fugger and Welser dynasties. The remarkable Renaissance buildings on the lakeshore originated in this period. The city is famous among literature fans as the birthplace of Bertold Brecht and is known to children because of the Augsburger Puppenkiste puppet theatre.
Rothenburg ob der Tauber is the epitome of a medieval town. Tiny cobbled alleyways, gabled houses and towers form a picturesque skyline. There are fantastic views from its ancient fortress with mighty town walls and formidable towers dating from the 13th and 14th. The imposing town hall and St. James' Church with altars by Riemenschneider are also worth seeing.
A climatic health resort and famous winter sports centre in a stunning setting at the foot of the Zugspitze mountain, Garmisch Partenkirchen has breathtaking panoramic views of the surrounding lakes and mountain streams. Excursions over the high plateau or climbing in the Wetterstein mountains provide a suitable challenge for mountain sports enthusiasts, but you don't have to be an extreme sports fan, there are plenty of well-maintained footpaths suitable for everyone, even those with pushchairs and wheelchair users. And when winter comes around the region reveals its special magic.
The picturesque town of Füssen im Königswinkel on Lake Forggensee under the watchful eyes of King Ludwig's castles is known as the cradle of European lute and violin making. The varied landscape takes in mountain ranges, the hills of the Allgäu region and idyllic lakes and is a paradise for energetic holidaymakers. This enchanting region inspired King Ludwig to build his fairytale castles at the southern end of the Romantic Road.
Top of page
Map of Germany
Map showing all of Germany's TOP travel destinations...
Click here!
Highlights in brief
Bavarian Forest National Park

Berchtesgaden Alpine National Park
Munich
State capital, airport, Bavaria film studios, Viktualienmarkt market, Olympic Park, German Museum, Pinakothek art galleries, beer gardens, English Garden park
Berchtesgaden
Lake Königssee, St. Bartholomä chapel, salt mine, Obersalzberg Dokumentation historic exhibition
Kehlheim
Weltenburg Abbey
Garmisch-Partenkirchen
Health resort, Zugspitze mountain, winter sports centre
Mittenwald
Violin making
Nuremberg
Trade fair venue, museums, Museum of Criminology, Christmas market
Neuenmarkt
Germany's largest butterfly park
Füssen
King Ludwig's castles