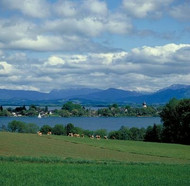 Bavaria's biggest lake, Lake Chiemsee, is also known as the "Bavarian Sea", although it is actually the remains of a glacier. It is 18 kilometres long, 14 kilometres wide and covers an area of 85 square kilometres. The Tyrolean river Ache and the Prien feed Lake Chiemsee, and the Alz drains it, running from near Seebruck, where the Roman fort of Bedaium once stood. To the south, the Lake is flanked by the Kampenwand, Hochgern and Hochfelln mountains with their distinctive profiles. The Herreninsel, Fraueninsel and Krautinsel islands lie close together in the calm waters.
This composition, with its colours and lighting, almost looks too perfect. It certainly inspired painters and poets, royalty and religious men and women. The Benedictine community were the first to succumb to the area's charms, deciding in the 9th century that they would stay. And who could blame them?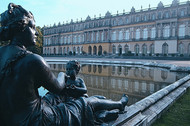 Anyone who falls in love with this corner of the earth is in very good company: King Ludwig II of Bavaria, the writers Ludwig Ganghofer and Ludwig Thoma, a whole host of painters and the fathers of the German constitution all lived here at some time. Long before any of them, the Celts and Romans also settled by the Lake, which was teeming with fish.
At 2.4 square kilometres, Herrenchiemsee is the largest of the islands, and is famous for the castle built there by Bavaria's fairytale King Ludwig II. The New Castle's park and gardens are designed to follow the pattern of those at Versailles. The renovated water features and seven fountains invite the visitor to stay and rest a while.