Contact

World heritage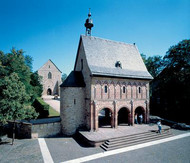 Animals and plants dating back around 40 million years are preserved as fossils in the oil shale of the Messel Pit Fossil Site. This is the most fossil-rich deposit of the Eocene period and it documents the early stages of mammalian evolution, including the famous propalaeotherium parvulum, the predecessor of the modern horse.
Lorsch Abbey and its Carolingian gatehouse are among the most important relics of pre-Romanesque architecture. They were included in the world cultural heritage list along with the archaeological remains of neighbouring Altenmünster Abbey.
The states of Hessen and Rhineland-Palatinate share the Upper Middle Rhine Valley, a gorge with a rich history. Its profusion of prestigious architectural monuments is among the most impressive anywhere in Europe. With its vine-clad slopes, idyllic villages on the banks of the Rhine and multitude of castles, the valley epitomises the romance of the Rhineland.
Top of page
Map of Germany
Map showing all of Germany's TOP travel destinations...
Click here!
Highlights in brief
Wiesbaden
State capital, casino, shopping, culture
Frankfurt
Banking city, "Römerberg" square, theatre, opera, culture, zoo, Palmengarten botanical gardens, museums, shopping district, skyline, airport, trade fairs
Limburg
Cathedral with seven towers
Hanau
Town of the Brothers Grimm
Fulda
Baroque town, cathedral, palace, palace gardens, baroque ensemble
Waldeck
Lake Edersee, castles
Steinau
"Devil's Cave", amusement park
Lorsch
Abbey (UNESCO World Heritage)
Glauburg
Celtic open-air museum
Eberbach
Abbey