Contact

Regional specialities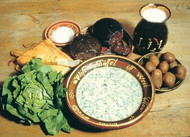 Hessen's most popular drink is apple wine, a type of cider with an alcohol content of 5 to 6 %. It tastes dry and is drunk neat, sweetened with lemonade or "sour" with mineral water.
"Handkäs mit Musik" is a sour-milk cheese served in cider houses accompanied by a dressing (the "music") made of sliced onion, vinegar and oil. It is traditionally drunk with apple wine.
"Presskopf" is brawn or fine meat pâté prepared using different ingredients and spices in different regions.
Green sauce or "Grie Soss", is eaten as an accompaniment to boiled beef or boiled eggs with potatoes. It consists of seven herbs (chervil, sorrel, borage, salad burnet, chive, parsley and dill).
Frankfurters are thin smoked boiled pork sausages with a natural skin. Not every small sausage is a frankfurter however, the name has been a protected designation of origin since 1929.
Pork chops with sauerkraut are a Hessian speciality consisting of cured pork ribs cooked together with sauerkraut. They are usually served with mashed potato and apple wine to drink.
Top of page
Map of Germany
Map showing all of Germany's TOP travel destinations...
Click here!
Highlights in brief
Wiesbaden
State capital, casino, shopping, culture
Frankfurt
Banking city, "Römerberg" square, theatre, opera, culture, zoo, Palmengarten botanical gardens, museums, shopping district, skyline, airport, trade fairs
Limburg
Cathedral with seven towers
Hanau
Town of the Brothers Grimm
Fulda
Baroque town, cathedral, palace, palace gardens, baroque ensemble
Waldeck
Lake Edersee, castles
Steinau
"Devil's Cave", amusement park
Lorsch
Abbey (UNESCO World Heritage)
Glauburg
Celtic open-air museum
Eberbach
Abbey