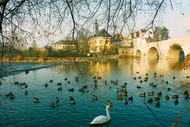 The Taunus hills stretch for more than 75 kilometres from the area known as the Wetterau as far as the Rhine, dropping steeply down into the valleys of the Rhine and the Main. The surrounding countryside is impressive and diverse, featuring broad swathes of forest interspersed with meadow valleys and open fields. Known for its hills, castles, palaces and spa resorts, the Main-Taunus region is a lush green gem.
From the hills, you can enjoy panoramic views over the densely wooded countryside to idyllic villages, secluded mills, rocky hills, tranquil lakes and the Frankfurt skyline. Though not actually classified as mountains, the hills reach up to 880 metres above sea level at their highest peak, the Grosse Feldberg with the Brunhildis rock and its breathtaking views. According to legend, it was used as a resting place by the Valkyrie and Teutonic gods.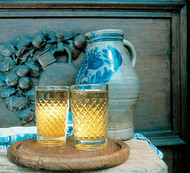 The slightly smaller Kleine Feldberg has a weather and earthquake station on it, while the Altkönig features an ancient stone "crown" made of circular Celtic walls. And in the valleys below, you'll be surrounded by birdsong and the rustle of trees all year round while visiting the parks and orchards, churches and temples, half-timbered buildings, quaint cider bars, bakehouses and mills, or walking alongside the small streams flowing through idyllic countryside. The knights certainly knew a good thing when they saw it: they built a whole string of castles in the Taunus hills high above the Main plain.
For those interested in history, the region also has a number of fascinating museums including the Hessenpark open-air museum where you'll find history at your fingertips. Saalburg Castle is the only restored fort from the days of the Roman Empire. Immerse yourself in the history of the region with its rich and varied cultural attractions - or simply relax in the thermal waters at one of the sophisticated health resorts where the beneficial mineral water bubbles up out of the ground from unfathomable depths. The Ancient Romans spent a long period of time here, and they learned to prize the therapeutic waters and mild climate of the Taunus hills.