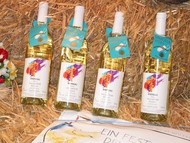 Rheinhessen and the Rheingau are long-established wine-growing regions in the Mainz Basin. Rheinhessen is to the left of the Rhine and the Rheingau is to the right. The Rheingau is an area of idyllic scenery where the Rhine leaves its north-south course and swings round to the west between Mainz/Wiesbaden and Rüdesheim.
Wine has been grown in the Rheingau since Roman times. The climate is part of the reason why Germany's wine-growing regions are so popular with visitors. In Germany grapes only thrive on sunny, south-facing slopes, unlike in Italy, France, California or South Africa where the climate allows vines to be grown on the plains as well.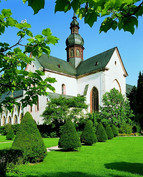 The vineyards in Germany's narrow river valleys are particularly spectacular. Wine lovers all over the world are passionate about riesling, preferably from a traditional Rheingau estate. Rheingau wines have impressive names such as Schloss Johannisberg, Schloss Vollrads and Kloster Eberbach. You might recognise Eberbach Abbey as the setting for the film "The Name of the Rose".
Some of the finest rieslings in the world are grown in the vineyards (3,000 hectares) on the green Taunus hills between Wiesbaden and Rüdesheim. For centuries, the development of wine growing in the Rheingau was determined by wine estates owned by the church and the aristocracy. The region's wine estates and small wine-producing towns are now linked by a network of marked footpaths and cycle trails which offer open views of natural scenery and land that has been cultivated for centuries. There are some gentle elevations but also some steep ascents and descents. These routes are not designed for dashing about - for one thing, there are too many tempting places to stop for a wine tasting.