Contact

Cities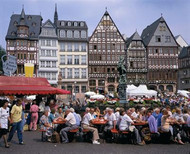 Hessen's towns and cities are a world of discovery in themselves. Visitors revel in its picturesque wine villages, romantic medieval towns, elegant spas and towns with an internationally renowned cultural scene. Frankfurt am Main, trade fair venue and financial services centre, is the location of the biggest airport in continental Europe.
At first sight, Frankfurt am Main is a city with an imposing skyline, a financial services centre and an internationally renowned trade fair venue, but close up the city is more approachable. Get to know it by strolling around carefully restored Römerberg square or along the banks of the river Main and down its fascinating museum mile, touring the traditional cider houses in Sachsenhausen or sauntering down elegant Goethestrasse or the "Fressgass" (glutton lane) with its many eateries. On top of all that, Frankfurt's range of cultural events really puts it in the big league.
Visitors from all over the world are attracted to Kassel, not just during the "documenta" exhibitions. Located on the river Fulda, the town has attractions for every taste and mood: museums for culture buffs, the German Fairytale Route, on which it is the main town, for fans of stories by the Brothers Grimm, the many spa and wellness facilities in the Wilhelmshöhe spa district for fitness fans and amenities ranging from water sports to golf and skydiving for sports enthusiasts.
Wiesbaden, the regional capital of Hessen, is located on the banks of the Rhine at the foot of the Taunus hills. Life here is good, it is a city of villas and wines and a health resort with therapeutic thermal springs. A chic feel, imposing architecture, a wealth of parks and green spaces, together with a varied cultural scene, define the charming ambience of this modern conference venue and city of culture...
Top of page
Map of Germany
Map showing all of Germany's TOP travel destinations...
Click here!
Highlights in brief
Wiesbaden
State capital, casino, shopping, culture
Frankfurt
Banking city, "Römerberg" square, theatre, opera, culture, zoo, Palmengarten botanical gardens, museums, shopping district, skyline, airport, trade fairs
Limburg
Cathedral with seven towers
Hanau
Town of the Brothers Grimm
Fulda
Baroque town, cathedral, palace, palace gardens, baroque ensemble
Waldeck
Lake Edersee, castles
Steinau
"Devil's Cave", amusement park
Lorsch
Abbey (UNESCO World Heritage)
Glauburg
Celtic open-air museum
Eberbach
Abbey