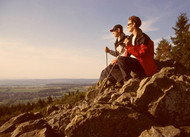 The fascinating Vogelsberg hills and the Upper Vogelsberg nature reserve both lie in the heart of Hessen between Frankfurt, Giessen and Fulda. This is one of the most beautiful and interesting of Germany's central highlands and Europe's largest contiguous basaltic massif. The Upper Vogelsberg region is historically important as the setting for many of the fairytales by the Brothers Grimm, while the Vogelsberg owes its undisputed international acclaim to the fact that it is one of the largest extinct volcanic fields on earth. The massif is comparable with Mount Etna, although with a diameter of 60 km and an area of 2,500 m² it is much larger.
The plateau is predominantly covered with deciduous forest and surrounded by what is known as the "green spruce belt", an area of hedgerow that characterises the Vogelsberg hills. This magnificent natural backdrop also features meadows, fields, forests, a rich variety of plants, ponds and lakes. The Upper Vogelsberg nature reserve has an excellent network of footpaths, providing visitors with the perfect opportunity to admire the bio-diverse flora and fauna.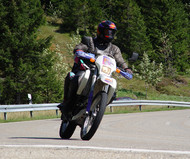 At the heart of the region is the imposing Upper Vogelsberg region consisting of a dozen peaks of 700 metres and more in altitude as well as high moorland. Running down from this narrow ridgeway in every imaginable direction are two or three dozen streams, of which the Schwalm, Ohm, Nidda and Felda are the most well known, although the "black river" is perhaps the most mysterious of them all. There is an extensive network of footpaths leading from the centre of the Upper Vogelsberg nature reserve with the flat surrounding countryside, the residential area in the west, the hills in the north, the county of Schlitz nestling against the Fulda's riverbank meadows in the east, the area of ponds and meadows in the south-east and a wealth of orchards in the Wetterau region to the south-west.
However, the real showpiece is the 125-km 'volcanic ring' in the Vogelsberg hills. This well-signposted footpath is the ideal way to explore the region's impressive sights. The Franconian villages with their half-timbered buildings, often covered with shingle on their western faces, are typical of the Vogelsberg. But there are plenty of other things to see and do here. Visiting one of the many museums housed in historic buildings, for example, or for keen motorbike riders, cruising around Europe's largest extinct volcano, taking the gentle bends and passing through idyllic villages on "Route 276". Anyone who hasn't yet had the pleasure of sitting on a legendary Munch Mammoth - a bike which came from the Vogelsberg region - simply must take a trip to Laubach.