Contact

Regions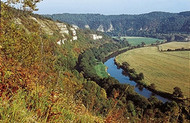 Hessen's regions are memorable for their wealth of historical monuments and the enchanting diversity of their scenery. Countless castles and palaces, unspoilt heathland, moorland and ancient woodland, beautiful lakes and rivers, picturesque medieval towns and vibrant towns and cities attract visitors to the state.
North Hessen's many highlights include the town of Kassel with its palace and spa district, host of museums and the famous "documenta" modern art exhibition. Sleeping Beauty's fairytale castle, Sababurg, is in Reinhardswald forest, and the 754 metre high Hohe Meissner hill is home to Frau Holle. Waldecker Land, where the Eder Reservoir and Kellerwald National Park are located, offers fascinating nature and scenery.
The Rheingau is one of Europe's loveliest wine-growing districts. Nobility and clergy have settled here for a millennium and created a string of some of the most important architectural monuments in Germany, including Eberbach Cistercian monastery and Johannisberg and Vollrads castles. Rüdesheim, the famous wine town, is one of the region's greatest attractions.
Half an hour by car from Frankfurt am Main, the Taunus hills are a perfect combination of nature and culture, with enchanting places of interest dating back to the ancient Romans and the ages of chivalry, kings and emperors. Examples include Saalburg Castle, Europe's only reconstructed Roman fort on the Limes, the boundary of the Roman empire, the castles of Eppstein, Königstein, Falkenstein, Kronberg and Oberreifenberg, the palace at Bad Homburg as well as numerous thermal spas, whose origins also date back to Roman times. But the Taunus doesn't just have history, its idyllic landscape, picturesque villages of timber-framed houses in romantic narrow streets, its footpaths and cider houses are all part of this extensive recreation and holiday region that is accessible, yet close to nature.
Measured by area and volume, the Vogelsberg is actually Europe's largest inactive volcano. The area is covered with wild mature forest, bristling with basalt outcrops. It is surrounded by a park-like ring of lakes, meadows and agricultural land, a paradise for cycling and roller blading. Numerous cycle paths criss-cross the rolling countryside and lead up to the highest hilltops.
Vast ridges, rolling plateaus and the crowns of numerous hills form the Rhön hill region. Gazing into the distance from the virtually treeless plateaus you see valleys, meadows, strange upland moors and striking basalt boulders, pretty little towns and isolated villages. Even the aircraft fly silently here as Mount Wasserkuppe (950 metres) is the birthplace of gliding, with the world's first gliding school opening there in 1924.
Top of page
Map of Germany
Map showing all of Germany's TOP travel destinations...
Click here!
Highlights in brief
Wiesbaden
State capital, casino, shopping, culture
Frankfurt
Banking city, "Römerberg" square, theatre, opera, culture, zoo, Palmengarten botanical gardens, museums, shopping district, skyline, airport, trade fairs
Limburg
Cathedral with seven towers
Hanau
Town of the Brothers Grimm
Fulda
Baroque town, cathedral, palace, palace gardens, baroque ensemble
Waldeck
Lake Edersee, castles
Steinau
"Devil's Cave", amusement park
Lorsch
Abbey (UNESCO World Heritage)
Glauburg
Celtic open-air museum
Eberbach
Abbey