Contact

Nature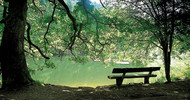 The Odenwald forest is shrouded in myths and legends that you can trace on the "Siegfried Route" and the "Nibelung Route". Hilltops, mostly sparsely covered with mixed forests, above broad, gently rolling valleys are characteristic of the countryside in the lower Odenwald forest. By contrast, the upper Odenwald forest in the east is characterised by long plateaus with coniferous forests and gorge-like valleys. To the south the Neckar river twists and turns its way beneath imposing castles towards the Rhine. The "Bergstrasse" region, which the Romans called "strata montana" is to the west where the Odenwald forest falls steeply away. The uplands of the Odenwald forest protect the "Bergstrasse" region from cold winds, enabling almond, peach and cherry trees to come into bloom when the rest of Germany can only dream of spring.
The idyllic highland scenery of the Spessart hills, Kinzig valley and Vogelsberg hills captivates visitors of all ages with large forests, picturesque medieval towns, fairytale castles and palaces as well as top-quality sports, health and cultural amenities. The gently rolling hills and lush valleys are ideal for walking, cycling or touring by car, along with the vast woodlands of the Spessart hills, one of the largest contiguous areas of mixed forest in Germany.
Top of page
Map of Germany
Map showing all of Germany's TOP travel destinations...
Click here!
Highlights in brief
Wiesbaden
State capital, casino, shopping, culture
Frankfurt
Banking city, "Römerberg" square, theatre, opera, culture, zoo, Palmengarten botanical gardens, museums, shopping district, skyline, airport, trade fairs
Limburg
Cathedral with seven towers
Hanau
Town of the Brothers Grimm
Fulda
Baroque town, cathedral, palace, palace gardens, baroque ensemble
Waldeck
Lake Edersee, castles
Steinau
"Devil's Cave", amusement park
Lorsch
Abbey (UNESCO World Heritage)
Glauburg
Celtic open-air museum
Eberbach
Abbey