Lutherstadt Wittenberg - Other areas of interest
Top of page
Art & culture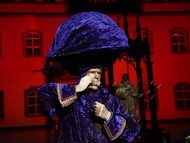 As well as numerous festivals such as "Luther's Wedding" and Reformation Day, Wittenberg also celebrates a Summer of Culture which features an enthralling programme of events, including the Wittenberg "Erlebnisnacht" festival, a night when you can expect the unexpected.
Wittenberg Summer of Culture
The "Lutherstadt" has staged the Summer of Culture for around ten years now, attracting almost 190,000 visitors every year. Now a fixture in the summertime cultural calendar, this festival includes special guided tours, the "KneipenMusikNacht" night when Wittenberg's watering holes echo to the sound of live music, and celebrations for "Luther's Wedding".
A night to remember in Wittenberg
Even though the "Erlebnisnacht" has only been part of the Summer of Culture for a few years now, this spectacular evening festival held every August still manages to lure around 6,000 people from the surrounding region and further afield to the narrow streets of Wittenberg. The festival watchword is "expect the unexpected at unexpected times in unexpected places".
Top of page
Hotel search

Looking for an accommodation?
Search and book hotels in Germany »
Map of Germany
Map showing all of Germany's TOP travel destinations...
Click here!
Search in surrounding area