Lutherstadt Wittenberg - Other areas of interest
Top of page
Food & drink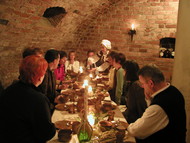 "Feast as in Luther's time" – a number of Wittenberg's restaurants have really taken this saying to heart, serving great-tasting traditional cuisine that harks back to the days of the great reformer.
"Brauhaus Wittenberg" brewery restaurant
Offering hearty traditional cuisine in rustic surroundings this is a place where you really can "feast as in Luther's time". In a number of rooms centred around the "Braulokal" with its copper brewing kettle, diners are treated to dishes such as Flämingforelle (freshly caught trout) and Grillhaxe (roast leg of pork).
"Restaurant Klabautermann"
"Restaurant Klabautermann" is a cosy establishment that has built its reputation on fish and seafood specialities, becoming a real insider's tip among connoisseurs. Needless to say there is also room on the menu for a range of vegetarian and meat dishes.
Top of page
Map of Germany
Map showing all of Germany's TOP travel destinations...
Click here!
Search in surrounding area