Lutherstadt Wittenberg - Other areas of interest
Top of page
Suggested excursions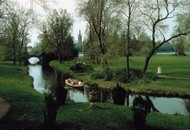 Wittenberg is just a short trip away from a number of exciting cities and beautiful natural scenery. Marvel at the stunning Sanssouci Palace in Potsdam, follow in Goethe's footsteps in Leipzig's "Auerbachs Keller" restaurant or take a relaxing walk through the Garden Kingdom of Dessau-Wörlitz – discover all this and much more in the region surrounding Wittenberg.
Leipzig
Leipzig has been an important influence in European commercial and intellectual life for centuries, and its sights are all part of the Leipzig experience. Historical shopping arcades, lovingly restored, are typical of the architecture in the city centre. There are great shops, a vibrant cultural scene and lively bars that stay open till the small hours, all within a relatively small area.
Garden Kingdom of Dessau-Wörlitz
A harmonious blend of natural beauty, architecture and the fine arts give the Garden Kingdom of Dessau-Wörlitz a diverse appeal. Alongside a variety of palaces and stately homes, visitors are captivated by the unrivalled elegance of the landscaped gardens. This spectacular setting is ideal for strolls and gondola rides, and also provides the setting for one-off concerts and special exhibitions.
Potsdam
Potsdam's main attractions, its palaces and gardens, bear witness to the days when it was the summer residence of the Prussian kings. Today, the town's reputation as a lively centre of culture and learning is enhanced by its fascinating architecture and the many events staged in Potsdam's palaces.
Top of page
Map of Germany
Map showing all of Germany's TOP travel destinations...
Click here!
Search in surrounding area