Lutherstadt Wittenberg - Other areas of interest
Top of page
Nature & greenery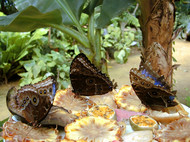 There is so much natural beauty to discover in the region surrounding this picturesque town on the Elbe River. Cycle along one of Germany's longest rivers marvelling at the beautiful scenery, admire the butterflies in Alaris Park or don your inline skates on the "Flaeming Skate" bike and skate route, the choice is all yours.
Elbe Cycle Route from Dessau to Elster
Cycling beside the stunning Elbe River, along what ranks as one of Germany's top three cycle routes, you'll find so much to see and do. Every town and village along the route has its own individual charm, and the variety of landscapes from Saxon Switzerland to the Elbe biosphere reserve simply cannot fail to impress.
Alaris Butterfly Park
Since 1998, Wittenberg has been home to one of the largest and prettiest butterfly parks in Germany. You can see more than 140 species at close quarters, and these free-flying butterflies feel right at home in this vast tropical landscape covering 1,000m².
"Flaeming Skate" Bike & Skate Route
Covering more than 175km this route through the Lower Fläming region meanders through woods, meadows and fields, far from the hustle and bustle of the roads. Designed for inline-skaters and cyclists, the route is lined with sleepy villages, striking churches and many other places of historical interest. If you fancy a break, why not stop off for a picnic on a meadow or stop off at an inn for a well-deserved drink? There are also a number of exciting sport and leisure activities along the route.
Top of page
Map of Germany
Map showing all of Germany's TOP travel destinations...
Click here!
Search in surrounding area