Lutherstadt Wittenberg - Other areas of interest
Top of page
Events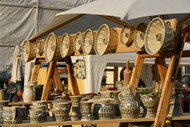 Wittenberg has a long tradition of celebrating festivals. As well as larger events such as "Luther's Wedding", there are many other great festivals in Wittenberg that you simply won't want to miss.
Reformation Day
Every year on 31 October Wittenberg celebrates Reformation Day. Religious services, church music and readings are at the forefront of this event, while a vibrant medieval market – just like in Luther's time – gives the festival an extra-special twist.
Pottery market
Held annually at the end of September, the pottery market enjoys a reputation well beyond the confines of the town itself. It is known as one of the largest and best pottery markets in Germany. Farmers' markets are also held in the Cranach courtyards and the castle courtyard.
Top of page
Map of Germany
Map showing all of Germany's TOP travel destinations...
Click here!
Search in surrounding area