Lutherstadt Wittenberg - Other areas of interest
Top of page
Places of interest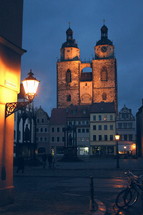 A simple stroll round Wittenberg, which was officially granted the right to be called a "Lutherstadt" in 1938, is an experience steeped in history. Thanks to the work of Martin Luther and other reformers, this town on the banks of the Elbe River was at one time the centre of religious and cultural life in Europe. Even today a multitude of buildings in the town bear witness to this time.
Castle Church
Once part of the magnificent castle of the Electors of Saxony, Castle Church in Wittenberg rose to fame after Martin Luther nailed his 95 theses to its door on 31 October 1517. Replaced by a bronze version in the 19th century, the door now serves as a reminder of his theses "on the power of indulgences".
Market square
The market square in Wittenberg is widely regarded as one of the finest in Germany. It's where you'll find the Renaissance-style town hall, which today houses an important collection of 20th century Christian art.
Church of St. Mary
The town's oldest building is among those in Wittenberg deemed by UNESCO to be part of the world's cultural heritage. It was in this church that Martin Luther preached to his congregation, and it has remained unaltered since that time. It also boasts a Reformation altar painted by Lucas Cranach the Elder.
Top of page
Map of Germany
Map showing all of Germany's TOP travel destinations...
Click here!
Search in surrounding area