Lutherstadt Wittenberg - Other areas of interest
Top of page
Shopping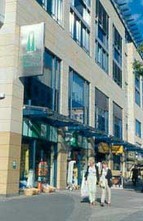 Wittenberg enjoys an advantageous location between a number of large and exciting cities, making it an ideal base for days out. Why not combine one of these excursions with a spot of shopping? There's a great range of shopping opportunities to be found in Leipzig and Magdeburg, or you can even head to the capital Berlin.
Leipzig
Leipzig offers an excellent range of shops and boutiques. There are high-quality specialist stores in the stylish ambience of the larger arcades. The Hauptbahnhof Promenaden at the main railway station has chic boutiques, and Mädler and Specks Hof arcades also offer exclusive shopping. A wide selection of shops and department stores can be found in Hainstrasse, Nikolaistrasse and Petersstrasse.
Magdeburg
Magdeburg has a wide range of shops to explore. Breiter Weg, Ernst-Reuter-Allee and shopping centres in Halberstädter Strasse in the Sudenburg district are firm favourites with locals and tourists alike. In addition to a number of small stores, you'll also find some good shopping opportunities at the City Carree and Allee-Center shopping centres in Magdeburg town centre.
Berlin
Though you have to travel a little further to reach this exciting capital city, you won't begrudge those extra miles. Go shopping or just window-shopping at over a dozen malls, along countless streets such as the Kurfürstendamm or in the quirky shops of the Kreuzberg, Mitte or Prenzlauer Berg districts. The legendary "Kaufhaus des Westens" is six floors of pure shopping pleasure, while even in bad weather there's great shopping to be had at malls such as the Arkaden on Potsdamer Platz or the Europa Center on Wittenberg Platz.
Top of page
Map of Germany
Map showing all of Germany's TOP travel destinations...
Click here!
Search in surrounding area