Contact

North Rhine-Westphalia - Other areas of interest
Top of page
World heritage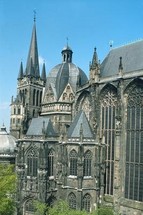 When he had his palace chapel built in 786, King Charlemagne was fulfilling his dream of creating a "new Rome". In the octagonal central section of Aachen Cathedral stands the marble throne, the treasure chamber holds Charlemagne's remains in a golden shrine and a gilded pulpit. 30 German kings were crowned in the cathedral in the period from 936 to 1531. It was the first German building to be listed as a UNESCO World Cultural Heritage site.
The palace of Clemens August von Wittelsbach, Elector and Archbishop of Cologne (1700-1761), is a rococo gem. Construction on the palace began in 1725. Inside Augustusburg Palace is the magnificent Balthasar Neumann staircase, while the grounds outside are modelled on French designs.
Just a short walk from Augustusburg Palace on the edge of a small forest is Clement August's hunting lodge, Falkenlust Palace. The plans for this summer residence built in 1729-37 were drawn up by the Bavarian court architect, François de Cuvilliés.
Cologne's famous landmark, Cologne Cathedral, is one of the largest of its kind in Europe. Construction began in 1248 and, after a number of pauses some of which lasted centuries, was finally completed between 1842 and 1880. This High Gothic masterpiece is 157 metres high, its nave is 43.35 metres high and, all in all, there are more than 10,000 m² of windows. The building's most sacred treasure is the Shrine of the Three Magi in the high choir. The Cathedral Treasury is housed in a brown cube outside the cathedral.
The Zollverein mine was once the largest and most modern coal mine in the world. In 1986, it was the last pit in Essen to be closed and placed under a preservation order. But this industrial site is certainly not standing idle. In addition to traditional pit tours, there is a dance theatre as well as an exhibition centre for contemporary art and culture in the Zollverein coking plant. The North Rhine-Westphalia Design Centre has been based in the former boiler house since 1997.
Top of page
Map of Germany
Map showing all of Germany's TOP travel destinations...
Click here!
Highlights in brief
Düsseldorf
State capital, sports, shopping on Königsallee
Cologne
Media centre, cathedral – UNESCO world heritage, carnival stronghold, indoor climbing centre
Bonn
Former capital of West Germany, home of Beethoven, railway museum
Dortmund
Moated castle, football, Westfalenpark, industrial museum
Essen
Zollverein mine – UNESCO world heritage, Grugapark, Lake Baldeney
Wuppertal
Elevated monorail
Bottrop
Warner Brothers Movie-World, indoor ski centre
Münster
Cathedral, high ropes course
Kerpen
Schumacher Kart Center
Kevelaer
Maize labyrinth