Contact

North Rhine-Westphalia - Other areas of interest
Top of page
Nature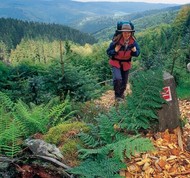 North Rhine-Westphalia is mainly known for its industrial past. But this federal state also has a remarkable wealth of natural scenery, from the flat Münsterland region and highland areas such as the Sauerland to the volcanic Eifel region and the Lower Rhine. Even the Ruhr region itself has some places that are sure to appeal to any nature lover.
The Eifel National Park has 10,700 hectares of unspoilt woodland. Visitors come to see the majestic beech forests, interspersed with gnarled oak woods and secret ravines hiding tumbling brooks. The park also provides a vital retreat for more than 230 endangered plant and animal species.
Right next to the Ruhr's sprawling conurbation lies the Ruhr valley. With its wide expanses of riverbank meadows, wetlands, steep riverbanks and broad valleys, it is ideal for boat trips and canoeing tours. Visitors also come to admire the castle ruins, the handsome stately homes and the sites of early industrial heritage, as well as the Ruhr valley railway tracks, old dams and towpaths.
Designed as a "trail of the senses", the Rothaarsteig trail is an opportunity to see nature at its best. It also features a suspension bridge and sculptures. The mountain route runs from Brilon in the Sauerland region to Dillenburg, crossing the Wittgenstein hills and the Siegerland region along the way. The highest peak of these uplands is the 841-metre Kahle Asten.
Top of page
Map of Germany
Map showing all of Germany's TOP travel destinations...
Click here!
Highlights in brief
Düsseldorf
State capital, sports, shopping on Königsallee
Cologne
Media centre, cathedral – UNESCO world heritage, carnival stronghold, indoor climbing centre
Bonn
Former capital of West Germany, home of Beethoven, railway museum
Dortmund
Moated castle, football, Westfalenpark, industrial museum
Essen
Zollverein mine – UNESCO world heritage, Grugapark, Lake Baldeney
Wuppertal
Elevated monorail
Bottrop
Warner Brothers Movie-World, indoor ski centre
Münster
Cathedral, high ropes course
Kerpen
Schumacher Kart Center
Kevelaer
Maize labyrinth