Contact

North Rhine-Westphalia - Other areas of interest
Top of page
Cities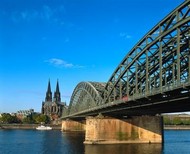 North Rhine-Westphalia has a whole host of interesting towns and cities to visit. Of these, Cologne and Düsseldorf are probably the most famous. Not only do these two cities offer a fantastic cultural scene, trade fair facilities and shops, they are also strongholds of the German carnival. Other places well worth a visit include Wuppertal with its elevated monorail, the university city of Münster, towns and cities in the Ruhr region, and, last but not least, the former capital of West Germany, Bonn.
Cologne, the largest city in North Rhine-Westphalia, is a centre for the arts and a top trade fair destination. In addition to its cathedral, the city has twelve Romanesque churches and various Roman remains. It is also the seat of the Archbishop of the richest archbishopric in Europe. The city's most famous son is Heinrich Böll, winner of the Nobel Prize for literature. Home to numerous radio and TV stations, dozens of publishing companies and the Mediapark, the city has earned a reputation as Germany's leading media centre.
The elegant state capital, Düsseldorf, is known far and wide for the many exclusive boutiques and galleries on its Königsallee – or "Kö" – and the pubs in its old town. Here, you can enjoy German dark beer on tap at the "longest bar in the world". The city is very popular with Japanese visitors and has the third largest Japanese community in Europe with 6,500 members.
Essen in the Ruhr region has always had more to offer than just coal and steel. Today, the Villa Hügel in Essen-Bredeney, the former residence of the Krupp industrialist family, is a centre for art exhibitions. And going back even further in time, Essen cathedral has the oldest known statue of the Virgin Mary dating from before 990, while the Folkwang Museum houses one of the most important collections of 19th and 20th century art in Germany and France.
The birthplace of Ludwig van Beethoven and once the capital of West Germany, Bonn has all the charm and appeal you would expect of a former electoral seat. Its main attractions include the university, Beethoven House and the museum mile. Built on Romanesque foundations in the 11th-13th century, the minster is one of the most beautiful Romanesque churches on the Rhine.
In no other German city do people cycle as much as in Münster. Not only are there more bikes than inhabitants, there is also a multi-storey bike park and a breakdown recovery service for these environmentally-friendly vehicles. The townscape of this old Episcopalian and university city is dominated by aristocratic residences, patrician town houses, churches and shops catering for the priesthood. Visitor attractions include the Prinzipalmarkt shopping arcades, the 14th century Gothic town hall and St. Paul's Cathedral, one of the largest churches in Westphalia.
Top of page
Map of Germany
Map showing all of Germany's TOP travel destinations...
Click here!
Highlights in brief
Düsseldorf
State capital, sports, shopping on Königsallee
Cologne
Media centre, cathedral – UNESCO world heritage, carnival stronghold, indoor climbing centre
Bonn
Former capital of West Germany, home of Beethoven, railway museum
Dortmund
Moated castle, football, Westfalenpark, industrial museum
Essen
Zollverein mine – UNESCO world heritage, Grugapark, Lake Baldeney
Wuppertal
Elevated monorail
Bottrop
Warner Brothers Movie-World, indoor ski centre
Münster
Cathedral, high ropes course
Kerpen
Schumacher Kart Center
Kevelaer
Maize labyrinth