Contact

North Rhine-Westphalia - Other areas of interest
Top of page
Regional specialities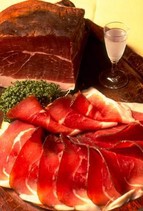 The Rhenish dish of marinated braised beef with raisins can be traced back to none other than Julius Caesar. On his march to Gaul, he stopped off in Colonia. But no sooner had he entered the town than he had left it again. Left behind was a wagon containing amphora of vinegar, some beef and a small bag of raisins – and that's where Rhenish Sauerbraten comes from.
Meat or vegetable, everything that goes into a Westphalian stew either stands in or grows in a field. Traditional versions include vegetable stew, swede stew, green bean stew, and pearl barley stew with bacon and beans.
Westphalians far from home often have cravings for a particular local speciality: pumpernickel. This dark bread is not baked in the oven. Instead, rye meal is mixed with a little yeast, malt and sugar beet syrup and then cooked in its own steam. The syrup gives it its dark black colour. And it stays fresh for a long time!
Top of page
Map of Germany
Map showing all of Germany's TOP travel destinations...
Click here!
Highlights in brief
Düsseldorf
State capital, sports, shopping on Königsallee
Cologne
Media centre, cathedral – UNESCO world heritage, carnival stronghold, indoor climbing centre
Bonn
Former capital of West Germany, home of Beethoven, railway museum
Dortmund
Moated castle, football, Westfalenpark, industrial museum
Essen
Zollverein mine – UNESCO world heritage, Grugapark, Lake Baldeney
Wuppertal
Elevated monorail
Bottrop
Warner Brothers Movie-World, indoor ski centre
Münster
Cathedral, high ropes course
Kerpen
Schumacher Kart Center
Kevelaer
Maize labyrinth