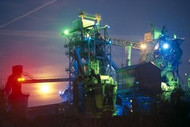 The Ruhr valley is the biggest conurbation, the most densely populated area and the largest industrial region in Europe. It is bounded by the river Lippe to the north, the Rhine to the west, the Ruhr to the south and in the east it extends as far as the towns of Schwerte, Unna and Kamen. At first glance, the heart of the region does not appear to contain many natural features or much scenery, but the Ruhr valley has long since changed from a coal mining region into a landscaped area of parks, gardens, canals and lakes.
Nowhere else can you see so many spectacular sights so close to each other. In this extraordinary location, you'll certainly find a whole variety of things to see and do. It's full of life and full of contrasts. In a place where there are so many people, there's always something going on. The towns and cities in the Ruhr region offer a number of exciting attractions, from Europe's largest shopping mall, extraordinary exhibition venues, museums and theme parks to the glittering world of musicals, theatre and concerts. Naturally, there's also a wide range of sporting activities including football, ultra-modern action sports and even winter sports - indoors, of course!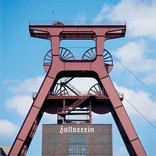 And in the bars and restaurants you'll find out a lot more about the region and make a few new friends. In the past, coal was king here, but nowadays you can discover the region's fascinating industrial heritage, past and present, among the monuments of the coal and steel industries. A cycle tour of the industrial heritage sites illustrates the diversity of the area. Restored mine workers' estates like Margaretenhöhe in Essen contrast with the palatial villa owned by the Krupp family, and highlight the way the industrial barons lived at the time. Villa Hügel has been host to kings and kaisers, heads of government and politicians from around the world.
Amid it all are unexpected swathes of countryside. Alternatively, you can cast off on a boat trip through the region. There are around 200 km of exciting waterways in all directions waiting to be explored - either by motorboat or on a more leisurely-paced cruise boat. In some towns you can tour the sights by vintage tram whilst learning interesting facts about the town's history, its architecture and the history of coalmining here.