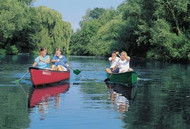 The verdant Münsterland region lies in the triangle between Teutoburg Forest, the Ruhr area and the Netherlands. Consisting of partly flat landscaped countryside featuring some hilly sections, moors, heathland, pastures and fields, the region is dotted with farmhouses surrounded by oak trees, picturesque, fortified moated castles and moated palaces. The flat Münster Basin is a paradise for walkers and cyclists known for its moated palaces. The isolated heathland, meadows, fluvial plains and moors are popular with nature lovers and provide a habitat for rare plants and birds.
The Münsterland region is predominantly made up of sparsely populated farming country. Of the many wild horses that once lived here, only around 250 remain. They still roam free across the moors and heathland in the Meerfelder Bruch nature conservation area near Dülmen - a 350-hectare reserve. This is down to the Duke of Croy, who gave them a home here in the middle of the last century. Every May they are herded together and the one-year-old stallions are rounded up for sale. This event always attracts thousands of spectators from all over the world. Afterwards, the herd is left to its own devices again along with two or three breeding stallions.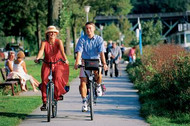 Today, the Münsterland region is synonymous with horse breeding and equestrian sports. Warendorf, a former Hanseatic town where King Friedrich Wilhelm III founded a royal Prussian stud farm in 1826, is a popular centre with local horse-lovers. Both the Olympic Riding Committee and the German Equestrian Association are based here. A leisurely trip by horse-drawn carriage is always great fun. But the people of Münsterland also have a special liking for "steel horses".
Cycling is a great way to get to know the region and its people. The Münsterland Cycle Park is the insider's tip these days among the cycling fraternity. There are a number of well-signposted routes, including the From Palace To Palace Route, Sandstone Route, Roman Route and the Treaty of Westphalia Route on the trail of the "peace riders", making it easy for you to get to your chosen destination. The region is also a fantastic place for inline skaters. Alternatively, you can relax and enjoy some fresh air on one of the region's many beautifully situated golf courses.