Contact

North Rhine-Westphalia - Other areas of interest
Top of page
Regions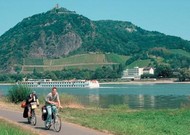 The regions of North Rhine-Westphalia could hardly be more diverse: They include the cycling paradise of Münsterland with its many castles and palaces, the Sauerland and Bergisches Land regions with their enchanting highland scenery, the Ruhr area in its transition from industry to science and culture, and the romantic Lower Rhine.
In Münsterland the locals lovingly refer to their bikes as Leeze and the more than 4,500 km of signposted cycle paths as Pättkes. The region is known for its moated castles and palaces, as well as for being a cyclists' paradise. Along the way, you'll see more than 100 stately homes, including the former residence of Annette von Droste-Hülshoff in Havixbeck. If cycling is not your thing, how about riding? A popular attraction in the 'land of knights and riders', the Parade of Stallions at the North Rhine-Westphalian stud farm in Warendorf, captivates audiences every year.
The Sauerland is North Rhine-Westphalia's largest leisure and holiday region, attracting sporty types from all over Germany. Most of them come to walk and cycle, or to ski and snowboard in the winter. The bobsleigh run in Winterberg and the Sauerland Bike Arena are also ideal for those who just want to spectate. The Karl May festival, part of the Elspe festival in Lennestadt-Elspe, is an opportunity for children to see chief Winnetou riding around one of Germany's largest open-air theatres.
The Zollverein mine in Essen and the German Mining Museum in Bochum are now preserved industrial heritage sites, as the chimneys have long since stopped smoking in the Ruhr area. Today, the emphasis is more on intellectual than industrial activity in this former coal-mining centre with its five universities, several technical colleges and a variety of museums and archives.
The Bergisches Land is a densely wooded region that connects the North Rhine and Westphalia. The house façades here are dominated by black slate. The countryside of the Bergisches Land nature reserve is full of hills, narrow valleys and lakes. The region's largest towns include Wuppertal, Solingen and Remscheid. The main attractions here are the elevated monorail and zoo in Wuppertal, Müngsten bridge and Burg Castle on the Wupper.
The Lower Rhine is situated between the Rhine and Meuse rivers, stretching from Emmerich to Dormagen. The landscape is dominated by expanses of forest, isolated heathland, riverside meadows, tranquil lakes, pollarded willows and rows of poplars. One of the region's highlights is the Via Romana on which you can follow in the footsteps of the Romans as far as the Dutch town of Nijmegen. One of the most important Roman settlements on the Lower Rhine, Xanten is an ideal base for excursions and definitely well worth a visit.
Top of page
Map of Germany
Map showing all of Germany's TOP travel destinations...
Click here!
Highlights in brief
Düsseldorf
State capital, sports, shopping on Königsallee
Cologne
Media centre, cathedral – UNESCO world heritage, carnival stronghold, indoor climbing centre
Bonn
Former capital of West Germany, home of Beethoven, railway museum
Dortmund
Moated castle, football, Westfalenpark, industrial museum
Essen
Zollverein mine – UNESCO world heritage, Grugapark, Lake Baldeney
Wuppertal
Elevated monorail
Bottrop
Warner Brothers Movie-World, indoor ski centre
Münster
Cathedral, high ropes course
Kerpen
Schumacher Kart Center
Kevelaer
Maize labyrinth