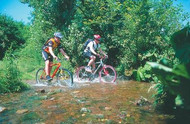 Sauerland is North Rhine-Westphalia's largest leisure and holiday region. It is bordered by the Bergisches Land region in the west, Siegerland in the south, and the Ruhr area and Westphalia in the north. To the east, the Sauerland region includes the plateaus around Winterberg as well as the Lenne and Rothaargebirge hills. The "land of a thousand mountains" boasts rustling spruce forests, idyllic valleys, bizarre rock formations, and a number of small and large reservoirs offering an outstanding range of water sports.
The region also includes Germany's most extensive contiguous cave system. The largest dripstone labyrinth in this bizarre world is the Atta Cave. The caves have been created by erosion over millions of years. The stalactites and stalagmites are the result of the evaporation of chalk-rich water during which the chalk is released and deposited on the floor or walls, creating magnificent dripstone formations.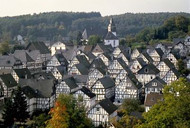 The Sauerland region has a wealth of picturesque countryside and cultural attractions. It is also a "land of springs" - a number of rivers rise here and there are also countless streams, ponds and lakes. The region's excellent spring water is also responsible for the high quality of Sauerland beer. The ideal way for visitors to explore the region is on Shank's pony or by bike. There are a number of challenging tours for keen mountain bikers at the Bike Arena Sauerland, which covers a total of 1,400 kilometres and offers downhill, trail and cross-country biking.
The landscape is dotted with traditional villages and distinctive half-timbered buildings, as well as centuries-old historic town centres, churches with precious altars, ancient abbeys, castles and palaces. Schnellenburg Castle, for example, sits in splendour overlooking Attendorn and is one of the most monumental castles in the region.