Contact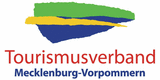 Mecklenburg-Western Pomerania - Other areas of interest
Top of page
Cities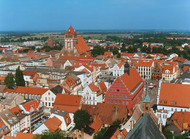 Mecklenburg-Western Pomerania has some wonderful examples of brick Gothic architecture. The cathedrals in the Hanseatic towns of Rostock, Wismar, Stralsund and Greifswald are particularly striking red-brick constructions. The medieval buildings in Wismar and Stralsund are now UNESCO World Cultural Heritage sites. Schwerin's fairytale castle is the regional capital's pride and joy and the seat of the regional parliament.
Known as the "Neuschwanstein of the North", the castle in Schwerin is built on an island in Lake Schwerin. An ancestral portrait gallery, palatial rooms and the orangery provide the setting for the seat of government in the palace. You'll find entertainment here all year round with events such as the Schwerin Summer of Culture, the film festival, the dragon boat festival on Pfaffenteich lake and a range of prestigious exhibitions and concerts.
Rostock was always the region's most important town, but it was never the state capital. Everywhere you go, you'll see reminders of the Hanseatic town's 800-year-old history: rows of tightly packed gabled houses, the Holy Cross Abbey housing the Cultural History Museum, old warehouses, the Maritime Museum and the market square with its seven-turreted town hall with a baroque facade.
Neubrandenburg and its enclosed town centre offer quite a few unexpected surprises too, with architecture from the Middle Ages through to GDR times as well as a remarkable spectrum of theatre, dance, music, galleries, cinema and media art.
Top of page
Map of Germany
Map showing all of Germany's TOP travel destinations...
Click here!
Highlights in brief
Schwerin
State capital, cathedral, castle
Neubrandenburg
Town with four gateways
Stralsund
UNESCO world heritage site
Greifswald
Brick Gothic architecture, Baroque
Nature Reserves
Island of Usedom, Feldberg Lakes, Nossentin/Schwinz Heathland, Mecklenburg's Elbe Valley, Mecklenburg's "Switzerland" and Lake Kummerow
Rostock and Wismar
Hanseatic towns, zoo, UNESCO world heritage sites
Müritz
Germany's largest lake after Lake Constance
Ribnitz-Damgarten
Amber town
Woldegk
Windmill town
Güstrow
Home of the artist Ernst Barlach