Contact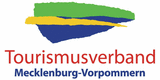 Mecklenburg-Western Pomerania - Other areas of interest
Top of page
Nature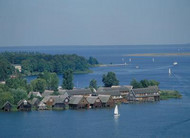 With 130,000 hectares of waterways, Mecklenburg-Western Pomerania has more water than any other German state, a total of 1,700km of coastline and 25,000km of rivers and streams. The region is a paradise for nature lovers offering an extensive network of walks and cycle trails as well as countless waterways and lakes that can be explored by canoe, sailing boat or motorboat. The air in the East German coastal region is widely regarded as the cleanest in the whole of Germany.
The West-Pomeranian Boddenlandschaft National Park is the largest nature reserve on the Baltic Sea. A landscape of steep cliffs, dunes, spits of land and shallow waters, it extends from the Darss-Zingst peninsula to the west coast of Rügen and is an ideal destination for both beach and woodland holidays.
The Jasmund National Park is set in a chalky landscape with marshes, wetlands and dry grassland. The park's most dramatic features are the chalk cliffs at the Königsstuhl, immortalised by the painter Caspar David Friedrich.
The Müritz National Park lies to the east of Lake Müritz, one of the largest lakes in Germany. There are many footpaths and cycle trails on which to explore this idyllic region of ancient beech forests, mysterious marshland and over 130 lakes. Visitors to the national park can discover a landscape created during the ice age which is now an important breeding ground for rare and endangered large birds.
Top of page
Map of Germany
Map showing all of Germany's TOP travel destinations...
Click here!
Highlights in brief
Schwerin
State capital, cathedral, castle
Neubrandenburg
Town with four gateways
Stralsund
UNESCO world heritage site
Greifswald
Brick Gothic architecture, Baroque
Nature Reserves
Island of Usedom, Feldberg Lakes, Nossentin/Schwinz Heathland, Mecklenburg's Elbe Valley, Mecklenburg's "Switzerland" and Lake Kummerow
Rostock and Wismar
Hanseatic towns, zoo, UNESCO world heritage sites
Müritz
Germany's largest lake after Lake Constance
Ribnitz-Damgarten
Amber town
Woldegk
Windmill town
Güstrow
Home of the artist Ernst Barlach