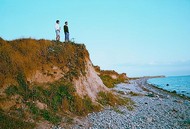 The Baltic Sea - a shallow, semi-enclosed, intracontinental marginal sea of the North Atlantic Ocean - takes its name from the area of land which extends from Szczecin in Poland to Reval on the Gulf of Finland. The Baltic Sea covers around 440,000 square kilometres. It has a salt content of just 1.5 per cent, and its average depth is around 52 metres. It is connected to the North Sea via the Oresund, the Great Belt, the Little Belt, the Kattegat, the Skagerrak and the Kiel Canal.
Unlike the North Sea, the Baltic has no tides and therefore freezes very easily. Its storms tend to be mostly harmless. Germany's Baltic coastline runs from Flensburg to the Bay of Pomerania. It has gently shelving sandy beaches, dramatic cliffs, bays and narrow inlets cut deep into the land - Flensburg Firth, the Schlei, Eckernförde Bay, the Bay of Kiel and the Bay of Lübeck.
The Baltic island of Fehmarn lies between Kiel Firth and the Bay of Lübeck. It sits off the mainland like the dot on an "i" and is known as Schleswig-Holstein's "granary". Burg, the main town on the island, the Wallnau aquatic nature reserve and the stunning bridge across the Fehmarn Belt are three of the key sights. Fehmarn also attracts many "artists of the air", stunt kite fans practising their left turns, right turns, loop-the-loops and figures of eight. You can watch kites swooping precariously close to the ground, then zipping back up into the sky with just a few pulls on the strings. Kite flying is great fun for people of all ages - and it's not too difficult to master.
Mecklenburg's Baltic coastline - from the river Trave to the river Recknitz - is characterised by long beaches of fine sand, high banks and sheer cliffs. To the east is Western Pomerania with its islands Grosser Werder, Bock and the Fischland-Darss-Zingst peninsula. This is real Hanseatic League country, particularly the Hanseatic cities of Wismar and Rostock.