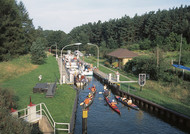 The Mecklenburg lakeland region is Germany's largest contiguous area of lakes. More than one thousand lakes, both large and small, are connected to each other by rivers and canals. Covering an area of 117 square kilometres in the heart of this water sports paradise, Lake Müritz is the largest lake within Germany. In addition to all the water sports offered in, on and around the water, at the Mecklenburg Lakes you can also charter certain types of yacht and houseboat even if you don't have a boating licence.
However, if you wish to travel under your own steam, a canoeing tour is the ideal way to enjoy the charming countryside. While travelling along the extensive network of navigable waterways, there's always a good reason to stop off for a trip ashore. And where there is a lot of water, there's also a lot of fish. With more than 50 different species, this is an absolute paradise for keen anglers.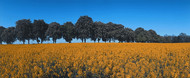 The shady tree-lined avenues, and tranquil, sometimes cobbled streets, lead to villages whose farmsteads and houses have retained much of their original charm and where the white stork is often seen. In amongst the glittering waterways and wooded hills, you'll come across fortified stone churches, monumental brick-built churches and round churches. There's even a rare octagonal church in Ludorf. Architectural monuments such as the ancient abbeys in Malchow, Himmepfort and Dobbertin give an impression of the church's former power.
The market squares and winding lanes of the old towns with their lovingly restored half-timbered buildings, proud town halls and sprawling harbours are delightful places to take a stroll. You can also enjoy the local specialities on offer at the quaint inns, or soak up the maritime atmosphere at the restaurants and bars around the harbour. With numerous harbour, lakeside and fishermen's festivals too, you are guaranteed to have a fantastic time.