Contact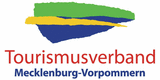 Mecklenburg-Western Pomerania - Other areas of interest
Top of page
Spas and health resorts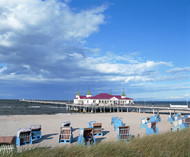 Protected by lush beech forests, Bad Doberan lies just inland. However, its Heiligendamm district is right on the coast. The town is known for its Minster, the "Molli" narrow-gauge railway, its bathing and spa facilities, and the oldest German racecourse.
Heiligendamm is Germany's oldest seaside resort. Today, the spa centre consisting of six classical-style buildings is one of the finest hotels in Europe.
To see some of the finest examples of classical villa-style architecture you need go no further than Binz auf Rügen, where the balconies are even more ornately engraved and the gables even more playful than anywhere else.
Situated at one end of the isle of Usedom, Heringsdorf, Ahlbeck and Bansin are seaside health resorts with a great past, and a wealth of hospitality and charm. These smart, cosmopolitan imperial spas are known for their white sandy beaches, some of them up to 70 metres wide, as well as their piers and luxury hotels.
Top of page
Map of Germany
Map showing all of Germany's TOP travel destinations...
Click here!
Highlights in brief
Schwerin
State capital, cathedral, castle
Neubrandenburg
Town with four gateways
Stralsund
UNESCO world heritage site
Greifswald
Brick Gothic architecture, Baroque
Nature Reserves
Island of Usedom, Feldberg Lakes, Nossentin/Schwinz Heathland, Mecklenburg's Elbe Valley, Mecklenburg's "Switzerland" and Lake Kummerow
Rostock and Wismar
Hanseatic towns, zoo, UNESCO world heritage sites
Müritz
Germany's largest lake after Lake Constance
Ribnitz-Damgarten
Amber town
Woldegk
Windmill town
Güstrow
Home of the artist Ernst Barlach