Contact (Route)
Tourismus Zentrale Saarland
Franz-Josef-Röder-Str. 17
66119 Saarbrücken
Tel.0681/92720-0
info@tz-s.de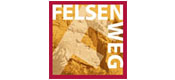 Contact
Deutscher Wanderverband
Wilhelmshöher Allee 157-159
D-34121 Kassel
Tel.: +49 (0)561-93873-0
E-Mail:
info@wanderverband.de
Losheimer Felsenweg
Length, Start/End
13.6km, circular route starting from the church in Waldhölzbach
Highest elevation: 569m
Altitude profile
Service
Tip
There are plenty of places for hungry hikers to refuel with mouthwatering dishes: Waldhölzbach is home to the Forellenhof country inn and the Waldhölzbacher Wirtshaus (Waldhölzbach tavern), Losheim boasts the wonderful Scheidener Stuben (Scheiden Rooms) and Scheiden itself is home to the Leineweber inn.






Quality hiking in the Saarland

Right at the heart of nature, on this trail you could be marvelling at towering rock formations one moment and experiencing new sensations on the barefoot path or crossing a stream on stepping stones the next. Historical attractions en route include a Celtic shrine and a Roman fort.

Boredom is not an option on this circular tour north of Losheim am See in Saarland, south-west Germany. Indeed it was named the best premium walking trail in Germany in 2005. Classified as moderately difficult, the route leads through hilly terrain with challenging climbs (highest point 585m, lowest 352m) and some gentle scrambles. Allow around five to six hours with breaks.

The route begins in Waldhölzbach, heads skywards to the Teufelsfelsen (devil's rocks) and continues down into the Hölzbach valley. It then switches to the picturesque Lannenbach valley, home to the Bärenfels and Adelsfels rocks, a Roman fort and a Celtic shrine. A lookout point in Scheiden offers stunning panoramic views. After the Waldhölzbach barefoot trail, the signposts guide you back to the beginning of the route.

Travel Information
Public transport: Bus RSW202 and RSW204 from and to Merzig train station.

Weather
Berlin
21.2 °F, heavy clouds
Bremen
26.6 °F, bright
Dresden
28.4 °F, dull weather
Düsseldorf
32 °F, heavy clouds
Erfurt
21.2 °F, cloudy
Frankfurt
28.4 °F, heavy clouds
Hamburg
23 °F, bright
Hannover
28.4 °F, cloudy
Kiel
24.8 °F, bright
Cologne
32 °F, heavy clouds
Magdeburg
28.4 °F, bright
Mainz
28.4 °F, heavy clouds
Munich
28.4 °F, cloudy
Potsdam
23 °F, fog
Saarbrücken
30.2 °F, snow shower
Schwerin
15.8 °F, bright
Wiesbaden
28.4 °F, heavy clouds
Das Wetter in: