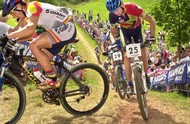 St. Wendel is the venue for the World Cyclo-Cross Championships, where pros from the world of cross-country mountain biking quite literally take the rough with the smooth, tackling a treacherous course where in some places they even have to cycle over snow and ice.
Taking the rough with the smooth
The spectacular World Cyclo-Cross Championships are as enthralling for the spectators as they are heart-stopping for the mountain bike virtuosos. An exuberant party atmosphere is provided by special shows and music events held in the festival marquees.