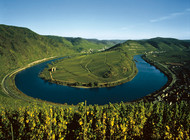 The Moselle Valley between Koblenz and Trier is a romantic river landscape, known throughout the world for its wine, which has also lent the valley its unique character. You'll find idyllic winegrowing villages and vineyards with familiar names, taverns and cultural history at every turn. The Moselle is 545 kilometres long, making it the Rhine's largest tributary. The meandering river valley with its steep vineyard slopes could be described as a "natural vine-bedecked amphitheatre". But nature was there long before tourists from all over the world started visiting this region.
Originating in France, the Moselle reaches its pinnacle before making its merry way towards the Rhine. This elegant river with its thrilling bends was once popular with the ancient Romans and Celts. They immediately recognised the potential of the Moselle - planting the first vines here on the steep slopes overlooking the Rhine. But that was 2,000 years ago, and a lot has changed since then. White wine from the Moselle region is now synonymous with a full-bodied, fruity Riesling that is elegant and dainty in character.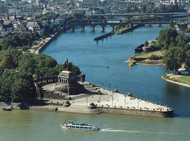 The vineyards in the Moselle region certainly don't make life easy for the winegrowers. At 380 metres high and with a 55-degree gradient, the Calmont near Bremm is considered to be Europe's steepest vineyard. With a series of incredible twists and turns, the Moselle winds its way from its source in the southern Vosges mountains to where it flows into the Rhine at the Deutsches Eck (German Corner) in Koblenz. Between the Hunsrück and Eifel, the river valley runs through a magnificent winegrowing region that dates back to Roman times. Owing to the mild, almost Mediterranean climate and steep slate slopes which retain the heat, the racy, fruity Riesling grows extremely well here. The vineyards run like a ribbon from the upper Moselle down into Koblenz.
A new vista with its own unique character awaits visitors around every twist and turn in the river. The amazing countryside in which the meandering Moselle carves its way through the rock is the oldest winegrowing region in Germany, shaped by a thousand years of cultivation. It was home to the Teutons, but the Celts also settled here at one time, and the Romans left behind a number of architectural and cultural monuments. The latter also had a great influence on the drinking culture. Even the smaller villages along the Moselle host their own wine and traditional festivals. Wine tasting at local cellars is also an important element of any visit to the Moselle.