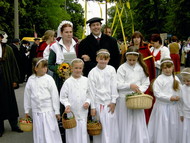 Every year on the second weekend in June, there are wedding celebrations all over Wittenberg. However these are no ordinary matrimonial festivities, they're a toast to the wedding vows of Martin Luther and Katharina von Bora.
Historic festival commemorating Luther's wedding
"Luther's Wedding" ranks as one of the finest town festivals in Germany welcoming more than 100,000 visitors every year. The pinnacle of the three-day festivities is the historical procession. Alongside a medieval craft market and an array of other events, the festival also features a comprehensive programme of entertainment, which forms part of the "Wittenberg Summer of Culture".