Shopping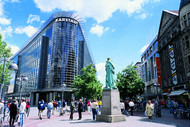 In its exceptionally large traffic-free shopping area, Hannover has a wealth of stores offering a great selection of goods to suit every taste and pocket. As well as the well-known department stores, exclusive shopping streets and arcades, there are plenty of boutiques and quiet little shops in the old quarter to guarantee shopping heaven.
Arcades and galleries
Visitors will find upmarket arcades and exclusive galleries in Georgstrasse between Kröpcke, the opera house and Aegidientorplatz. The redesigned pedestrian precinct and the area between Kröpcke and Steintor have a number of department stores. The shops clustered around
Marktkirche
church, in Niki-St. Phalle Promenade, in the exclusive Galerie Luise and the alternative Lister Meile shopping street are the places to go for something a little different.
Flea market on Leinepromenade
Every Saturday, bargain hunters flock to the flea market on the banks of the River Leine to browse, rummage and haggle over the goods on offer.
Markthalle (Market Hall)
The
Markthalle
is the place to go for fresh local farm produce and a wide variety of international treats.
Top of page
Map of Germany
Map showing all of Germany's TOP travel destinations...
Click here!
Search in surrounding area