Exhibition centres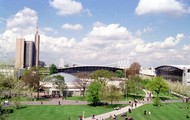 Hannover Exhibition Centre sets international benchmarks with its technical facilities and exhibition hall architecture. As the world's largest exhibition centre it boasts impressive dimensions, and Hannover's central location means there are a number of ways to get there: it has an airport, an intercity railway station, an Exhibition Centre railway station, direct autobahn connections and an excellent public transport network.
Hannover Exhibition Centre
Hannover Exhibition Centre has 27 halls and pavilions with 498,000m˛ of exhibition space and 58,000m˛ of outdoor grounds. The 35-room Convention Centre has glass-panelled corridors as well as a variety of green areas and 'chill-out' zones, fostering a relaxed yet productive atmosphere. Architectural highlights include the EXPO roof, the Hermes Tower and Hall 8's EXPONALE, the largest pedestrian bridge in Europe.
Contact:
Deutsche Messe AG
Messegelände 30521
Hannover
Email:
info@messe.de
Website:
www.messe.de
Top of page
Map of Germany
Map showing all of Germany's TOP travel destinations...
Click here!
Search in surrounding area